Welcome to our Church!
Greetings from the historic Antioch Missionary Baptist Church in Mount Meigs! We are elated you took the time to visit our website. Each person is very precious to Jesus Christ. He has demonstrated this: "greater love hath no man than this, that a man lay down his life for his friends."
We wish to invite you to attend our services at Antioch. Moreover, we want to share the joyful event of experiencing the presence of the Holy Spirit. We are being blessed with tremendous spiritual growth by searching the scriptures.
Your personal life will be greatly enhanced with mighty blessings, when you discover the true power available to all believers (St. John 1:12). Each of us must allow Christ Jesus to be Lord of our life. Remember, lifting up Jesus will draw all men unto him (John 12:32). It is our desire to always lift up the name of Jesus "Hosanna" who saves now. Come join us in our next worship service.
A-lways
N-otable
T-eaching
I-n
O-ur
C-hurch
H-ouse
Where God's people share in Biblical studies.
Keep the faith.
Pastor and First Lady Richard E. Griffin, Sr.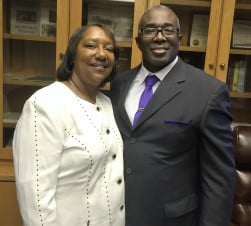 Live Stream:

https://facebook.com/Antioch-Baptist-Church-113985891965133/






Upcoming Events
Antioch's Little Angels Child Watch is open on Sundays during Worship for ages 2-5 years
Children's Church is on Sundays for Children ages 6-13

SCHEDULE DURING COVID-19
MONDAY, SEPTEMBER 21, 2020
8:46 Prayer Campaign
6 p.m.
Call in:
1-605-468-8716
Access code: 477243#
Each Monday in honor of George Floyd and many others
TUESDAY, SEPTEMBER 22, 2020
WEEKLY BIBLE STUDY
Conference Call
6:00 p.m.
1-978-990-5000
Access Code: 237463#
Study: Job Chapter 2
THURSDAY BIBLE STUDY
ZOOM BIBLE STUDY
on SEPTEMBER 10, 2020
Meeting ID: 393 532 6459
3QK0av
See Facebook post for study content
I Corinthians Chapters 7 & 8
CHILDREN'S CHURCH
Each Friday at 6 p.m.
ZOOM
SEPTEMBER 25, 2020
Meeting ID: 393 532 6459
3QK0av
SUNDAY SCHOOL OVERVIEW
Posted on Facebook page
each Sunday
THIS WEEK'S DROP OFF IS:
FRIDAY, Sept. 25, 2020

3:00-5:30 p.m.
SATURDAY, SEPT. 26, 2020
Church Clean Up Day
9 am -12 Noon
ALL ON-SITE SERVICES AND ACTIVITIES AT
ANTIOCH ARE CANCELLED
UNTIL NOTICE IS GIVEN
Morning Worship Services may be streamed live beginning at 9:30 a.m.
from the link on the website under the Pastor's picture
Or
from our Facebook Page:
Antioch Baptist Church
ALL MADA PROGRAMS AND ACTIVITIES ARE CANCELLED UNTIL FURTHER NOTICE



Live Stream Broadcast link (Facebook) of Pastor Griffin's Sermon will be posted below  on This Sunday at 12:00






------------------------------------

For information concerning
church activities, please call
Antioch Missionary
Baptist Church
at:
334-215-3596
NOTICE:
To hear songs sung by the Antioch Choirs, click on the "NEWS, PHOTOS, SONGS" tab and then click the "Songs We Sing" button.
To access the photo slide shows, click on the "NEWS, PHOTOS, SONGS" tab, and then click any of the "Photo" items on the drop-down buttons.